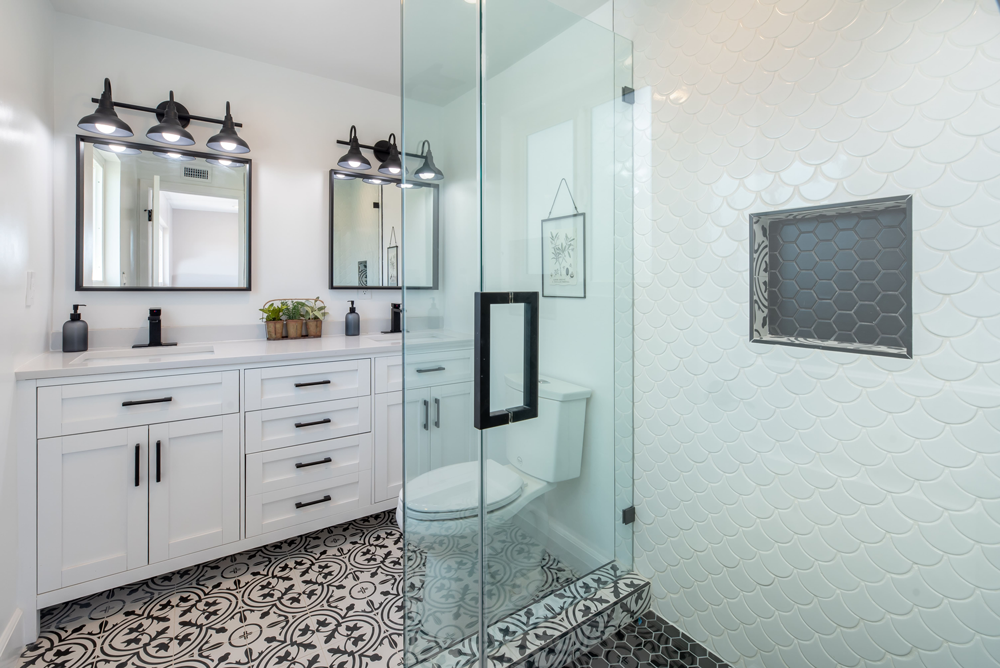 From washing the children following a sloppy day playing outside to scrubbing down toward the beginning of the day, your washroom ought to be a getaway from life's concerns. Let us make your very own spa to loosen up following an unpleasant week at the workplace.
Is it accurate to say that you are tired of getting up toward the beginning of the day and strolling into your old dated washroom? When you clean up, does it spill down to the primary floor family room roof? Or then again, is your shower area so little, you can scarcely move? If you addressed yes to any of these inquiries, it's an ideal opportunity to change your old, dated, dreadful restroom into a warm, welcoming, lavish spa. It's time you called us to help plan and redesign your bathroom.
START YOUR DAY WITH A BEAUTIFUL MODERN BATHROOM
When planning a restroom redesigning venture, remember this is where you start your day and end your day. If you and your life partner intend to simultaneously utilize the washroom, make a point to incorporate additional bureau space and twofold sinks. If you are thinking about renovating your enormous restroom, consider eliminating your bath to augment your shower. How often do you utilize your bath? The standard utilization of an bath is before a year, and the shower is used each day. Ensure the size of your shower is agreeable and enormous enough to move around.
There is plenty of things to consider when planning and rebuilding your washroom. Here are a few projects that we have finished for our customers:
Warmed Floors with Programmable Thermostats
Body Spray Shower Systems
Handheld Shower Heads
Underlying Shampoo Shelves and Niches
Custom Shower Benches
Custom Glass Shower Enclosures
Custom Linen Hutch Cabinetry
Vanity Cabinet Towers
Above Toilet Cabinets
Glass, Natural Stone, Porcelain, and Ceramic Tile
Rock, Hanstone, Silestone, Caesarstone, and Cambria Countertops
We will ensure the end-product of your restroom remodel will leave you a space that will cause you to feel revived, loose, and clean.  We have completed numerous projects in remodeling woodland hills, bathroom remodeling Calabasas, bathroom remodeling Culver City, bathroom remodeling Westlake village, bathroom remodeling West Hollywood, bathroom remodeling hidden hills, bathroom remodeling Malibu, bathroom remodeling Tarzana, bathroom remodeling Reseda, and many more. We have an extraordinary cycle beginning to end to promise you will cherish your new extravagant restroom.
Our process:
Our process is long and defined. We make sure that we listen to you in every stage of your home remodeling and make your dreams come true.
First off, we start with one of our team members setting an appointment with you. They note your vision and needs and contribute their ideas to make sure your house remodeling LA is perfect. We also make sure that it's not heavy on your pockets.
After this, we fix a second meeting to show you a 3D design that we have designed to keep your ideas, requirements, and work in mind. The design is made with one of the most advanced and innovative software we use; market (20/20). The 3D model will allow you to look at what your house will look like after you have this design. You can make changes accordingly if you want.
After an approved 3D design, we will start shipping all the materials required to your house for the construction. We will begin with the construction and provide you with the final work.
This is how simple we make it…
Contact us today!
So what are you waiting for? If you want to get your dream home today, you need to avail LA home improvement services from the Best Builders group. If you are not sure, you can talk to one of our team members to get a free consultation and home remodeling costs. Call BBG at 818-346-4483